Digital storytelling is telling a story with  use of tools, in this case digital story telling in our class has required us to use the internet and its many sources. How can digital storytelling be used in a classroom? How does it support student learning and development?
Digital story telling is one of several ways to tell a story.Telling your story digitally can enhance your computer knowledge and skill. While digital story telling can shape a classroom, it also provides a space for which can be learned from. Students can use internet sources to help establish projects or presentations in class. Students may explore, and make individual meaning to the work. Personal connections can be drawn from the topics of their choosing, and it can help students express ideas, thoughts, and knowledge.
Digital story telling can be beneficial for teachers as well. Digital story telling can allow students some free and lenient space to adapt, and conquer. Teachers can assess by noting progress of students and can find where issues may lie. Homework and classwork can be handed out through the net and this allows students the opportunity to research and dive, even discuss their methods of learning.
Digital story telling is the new innovative way to learn and teach. Teachers can also explore the realms of the internet with their students which can create a common task and goal. While some teachers are also creating this can make students feel more comfortable with the common long and short term goals of the teacher. Using digital media, images, and story telling can open doors for peers to interact as well as interacting with the teacher.
Encourage students to tell their stories…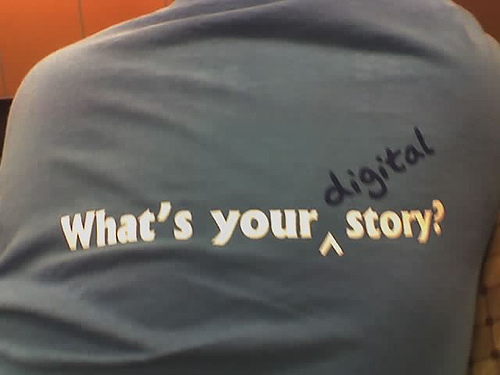 SUPPORTING OBJECTIVES:
Can the 'layering' that's possible in audio, video, and image in a digital story support the learning objective? Of course! 'layering' in audio, image and video production supports the learning objective be providing steps. In order for the student to create a whole full on video he or she can start by developing the image first and then the audio and finally the movie, collaborating all of which was learned into a story. Student grouping and individual learning is also involved as well as providing student body with a challenging assignment in which he or she can connect to and develop skills from. Teachers can assess students as well as decipher which learning styles are favored by students.